Frankenstein45.com – Stiker WA jedag jedug bergerak belakangan ini banyak diburu pengguna WhatsApp, karena stiker versi jedag jedug pota pota tersebut terlihat lucu dan menggemaskan. Ditambah gambar anak kecil berjoget mengikuti alunan lagu DJ Pota Pota (Copines) yang sedang viral di TikTok dan dipopulerkan oleh seorang penyanyi asal Perancis, Aya Nakamura.
Viralnya lagu tersebut pun tentu saja membuat pengguna menggunakan lagunya untuk dijadikan sebagai stiker bergerak untuk aplikasi WhatsApp. Itu termasuk nama stiker WA pota pota versi jedag jedug bergerak kali ini yang aslinya dibuat oleh seorang youtuber Bang Al Fatih. Maka, tak heran jika banyak pengguna WhatsApp menginginkan stiker pota pota tersebut di salah satu grup WhatsAppnya.
Terlebih mentahan animasi lucu untuk membuat stiker bergerak bisa Anda temukan lebih banyak di Pinterest. Pilihan gambar-gambar lucu yang relevan dapat Anda gunakan untuk membuat stiker whatsapp bergerak sendiri dengan menggunakan aplikasi Sticker.ly.
Baca Juga:
1. Anak Kecil Korea yang dijadikan Stiker WhatsApp
2. Stiker Kucing Lucu WhatsApp Bergerak
3. Stiker WhatsApp Pentol Gerak (Gif)
Cara Mendapatkan Stiker WA Jedag Jedug
Pertama-tama, silahkan kunjungi channel YouTube "BANG AL FATIH".
Klik pada deskripsi salah satu video untuk memulai bergabung ke link grup Whatsapp.
Selanjutnya, nanti Anda akan dibawa ke halaman undangan grup dan pilih gabung saja.
Jika grup pertama penuh, klik gabung pada link grup WhatsApp yang kedua.
Mintalah izin kepada admin untuk meminta stiker jedag-jedug didalam grup tersebut.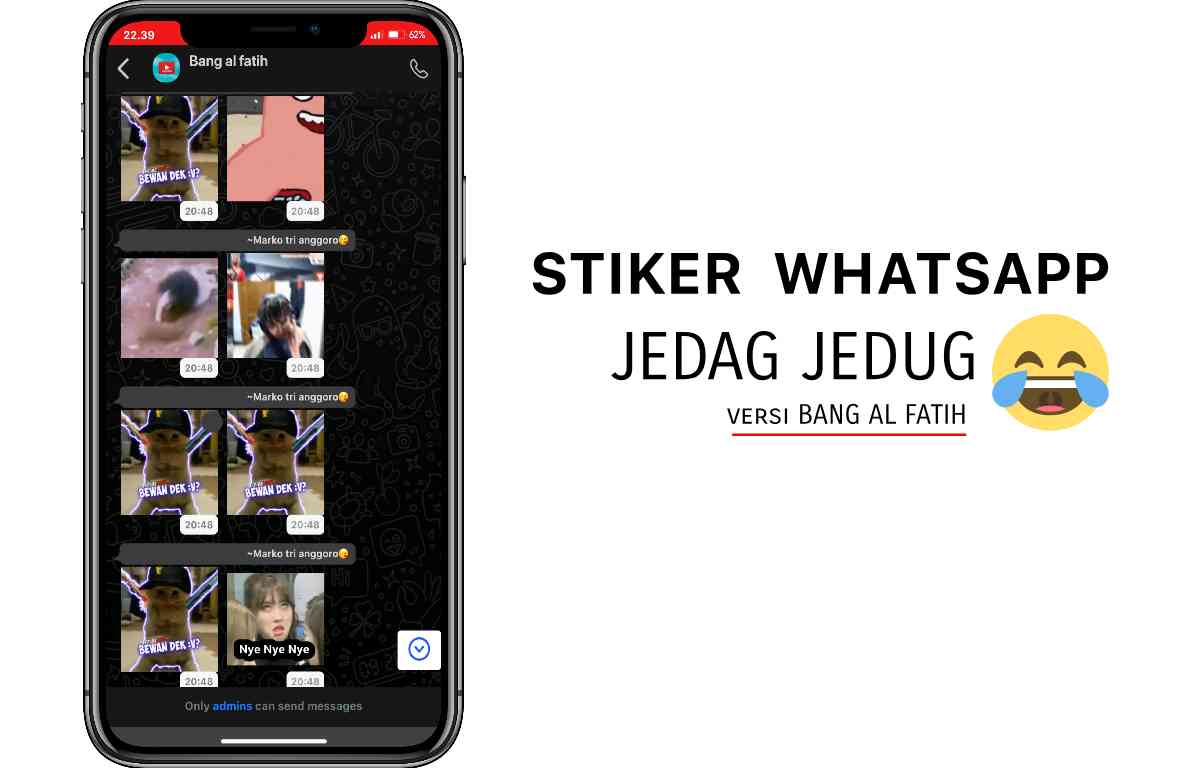 Dengan begitu admin grup Bang Al Fatih akan memberikan stiker wa jedag jedug itu beserta audio pendek dari lagu yang saya sebutkan diatas. Jangan lupa tambahkan stiker ke favorit ya.
Buat Stiker WhatsApp Bergerak Sendiri
Sebelum membuat stiker whatsapp bergerak, pastikan sudah memiliki animasi atau video yang tentu saja dapat Anda convert di situs https://ezgif.com.
Lalu, bagaimana cara membuat stiker bergerak sekaligus menambahkan ke aplikasi WhatsApp?
Caranya cukup mengunduh aplikasi Sticker.ly di Play Store atau App Store secara gratis atau Anda bisa mengikuti tutorialnya membuat stiker bergerak menggunakan video dibawah ini.
Siapkan satu video berdurasi 5 detik.
Kemudian pergi dan buka situs ezgif.com.
Pilih menu video to Gif.
Upload video yang ingin Anda jadikan animasi / sticker (maksimal ukuran video 100 MB).
Ubah ukuran animasi ke 512×512.
Selanjutnya pilih convert ke format GIF.
Pilih tahan animasi untuk mengunduhnya.
Terakhir buka aplikasi Sticker.ly, selanjutnya pilih ikon (+) > Animated > pilih foto dari galeri > cari file foto gif yang sudah Anda buat sebelumnya.
Jika semua stiker sudah Anda siap langkah cara menambahkannya ke aplikasi WhatsApp, silahkan klik My Stickers dan pilih Add to WhatsApp. Nah, begitulah cara mendapatkan stiker whatsapp jedag jedug versi pota pota dengan mudah. Selamat mencoba.