Frankenstein45.com – Belakangan ini stiker wa keju joget sedang viral di dunia maya. Memenya sontak membuat sebagian warganet mencari gambar dan animasi keju untuk dijadikan stiker WhatsApp. Awal mulanya viralnya stiker keju bergerak ini terlihat dibarengi dengan lagu DJ Milakuo Pokemon.
Perlu diketahui maksud dari pemeran di stiker wa keju joget tersebut merupakan karakter di naskah film animasi The Light of Courage. Aslinya meme berbentuk segitiga ini pernah viral pada tahun 2019 lalu yang didasarkan oleh seri video game The Legend of Zelda.
Triforce ini sangat berpengaruh pada alur cerita game tersebut yang diciptakan fanboy Robert C. McGee (Joe Cracker) di forum IGN pada tahun 2002 dan saat ini diangkat balik oleh Tiktokers.
Baca Juga:
1. Cara Mendapatkan Stiker WA Iklan Royco
2. Stiker Patrick WA Jagoan Sindiran (Full Pack)
Di Indonesia namanya dikenal dengan sebutan Keju Joget, karena seperti yang Anda lihat jenis video animasinya terlihat semacam keju yang berjoget.
Banyak pengguna menginginkan beberapa gambar keju gif, sehingga Anda cukup mencari di laman Google dengan kata kunci "The Light of Courage", maka nanti akan muncul beberapa rekomendasi gambar animasinya dengan format HD.
Bahkan, ada salah satu warganet mengomentari populernya animasi 'Yellow triangle dance' dengan kalimat kata-kata yang mengundang tawa.
@villager blacksmith:
"Tidak ada yang lebih menyenangkan selain menonton keju joget selama 32 detik"
Guru: Bahan utama praktek hari ini adalah keju.
Guru : Loh,kok kamu ketawa?apa yg lucu.
Me : gaada apa apa bu.
My brain :…"
Gue kira sukun goreng..
Lantas, bagaimana cara mendapatkan stiker WA joget keju yang sedang viral di TikTok?.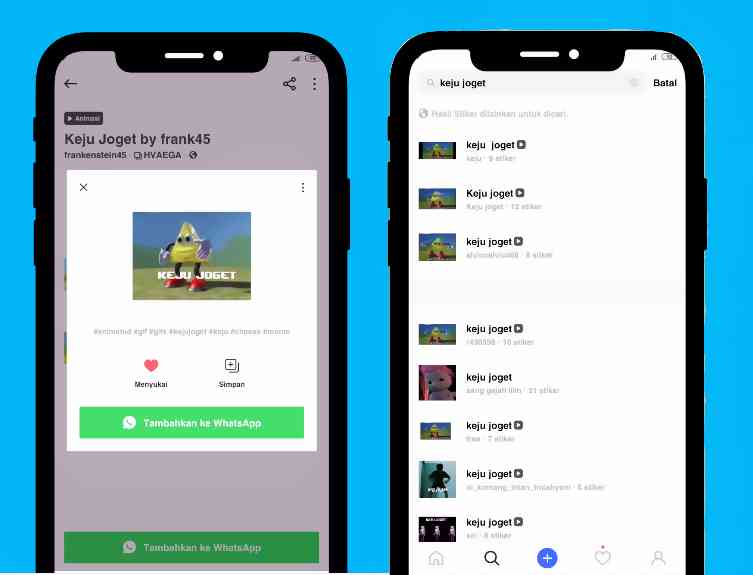 Via App Sticker.ly
Nah, untuk mendapatkan jumlah sticker Whatsapp keju bergerak yang sedang viral di Tiktok tentu saja itu bisa Anda dapatkan di aplikasi Sticker.ly.
Pertama-tama silahkan, install aplikasi Sticker.ly di Google Play Store dan App Store
Selanjutnya, pilih Download Stiker
Selanjutnya, nanti Anda akan dibawa ke laman pengunduhan dan pilih > Get Stickers
Secara otomatis laman stiker keju akan terbuka menggunakan aplikasi Sticker.ly
Kelima, pilih > Add to WhatsApp
Jika muncul pemberitahuan. Apakah Anda ingin menambahkan stiker ke WhatsApp?
Silahkan, pilih YA saja
Selesai.
Akan tetapi Anda juga bisa menemukan jenis stiker yang lain di pencarian aplikasi untuk mendapatkan stiker WA sukun joget lebih banyak lagi.